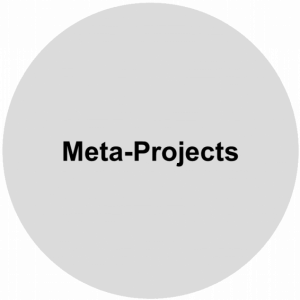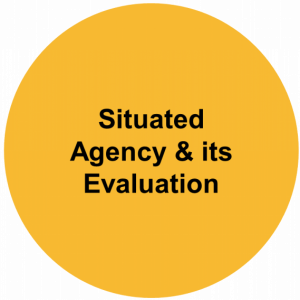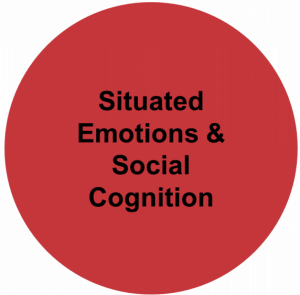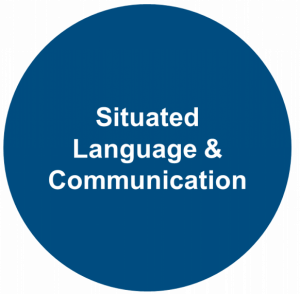 This is the 3rd call for 1 PhD-position starting on 1st of August 2020 (or shortly afterwards) as the key component of the Research Training Group "Situated Cognition".
The position is vacant within the following project:
In general, each position presupposes an excellent Master degree and the ability and open-mindedness for interdisciplinary discussions. Since there are specific demands for each position, you find a detailed description of the expected profile for each position: In the case of philosophical projects we remain open-minded for handing in your own project proposal which must clearly fit into the research program of "Situated Cognition".
Such an own proposal is not expected.
Any questions? Download the FAQ

---
Part A: Meta-Projects
Project 1: Non-symbolic representation in situated cognition. Describing sensorimotor representations via embodied similarity spaces
Project Leader: Peter Brössel
Abstract: Symbolic representation and the computation with such representations take center stage in traditional approaches in cognitive science. In contrast, embodied theories of cognition deny such a privileged role for symbolic representation and instead maintain that sensorimotor information and by extension the continuous interaction with the environment play a more important role in our cognitive household. Anti-representationalists advocates of embodied cognition maintain that most of our cognitive capacities, and even our decisions and actions can be explained with the help of dynamical system theory or connectionist neural networks and without presupposing mental representation, let alone symbolic representation. Other advocates of embodied cognition hold that mental representations have an essential role to play.
The main aim of this project is to investigate whether conceptual spaces (Gärdenfors 2000, 2014) provide an adequate framework for integrating representational states into theories of embodied cognition. In particular, embodied similarity spaces are an alternative to both connectionism and symbolic mental representation. On the basis of such geometrically conceived similarity spaces we hope to unterstand both (i) how similarity spaces are shaped by sensorimotor information and constant interaction with the environment and (ii) how such embodied representation shape our thoughts, beliefs, decisions and actions without involving symbolic representation.
***
Project Category: Philosophical theory formation
Formal Title: Dr. Phil or PhD in Philosophy
Qualifications: Expected is an excellent Master in Philosophy or Cognitive Sciences. The candidate should have expertise in at least one of the following areas of research:  Epistemology, Philosophy of Mind, Philosophy of Language, Computer Science, theoretical Cognitive Science. Ideally the candidate has some experience with employing formal methods in philosophy.
Project 2a: Situated cognition is scaffolded and flexible. Comparing the cognition of humans and animals
Project Leader: Albert Newen
Abstract: The standard way to characterize situated cognition consists in the 4Es: embodied, enacted, embedded and extended (Newen et al. 2018). During the discussion of the concepts, the scientific community including our own contributions reached a status according to which embodiment has a twofold but clear meaning and enactment denotes the role of dispositions to act for all cognitive states and processes. Both concepts are thus rather clear and have in the meantime received a lot of detailed support including highlighting some limitations. The notions of extendedness and embeddedness are less clear and remain underspecified since it is not indicating any borderline between standard background conditions and specific enabling conditions for a cognitive ability or process. To change this, we want to argue that these two concepts should be substituted by the concept of "scaffolding" (resulting in the trias of embodiment, enactment and scaffolding) and the general observation of flexible use of learned cognitive abilities. The working hypothesis is that human cognition is especially scaffolded by physical and social conditions and it is integrated into an early development of flexible use. This will be investigated with the philosophical project including a comparison of the realization condition of two core abilities, e.g. tool use and nonlinguistic communication, in humans and some species of nonhuman animals.
***
Project category: Philosophical theory formation
Formal title: Dr. phil. or PhD in Philosophy
Qualifications: Expected is an excellent Master in Philosophy or Cognitive Sciences (if the candidate does not have a master in philosophy officially then the candidate should at least have written a BA- or Master Thesis which is clearly philosophical). Ideally the candidate has a proven expertise in at least one of the following areas: Theory of Animal Cognition, Theory of Social Cognition or Situated Cognition (4E cognition).
Project 3: 4E Cognition, biologism vs. functionalism
Project Leader: Tobias Schlicht
Abstract: Ever since Varela's pioneering work launching the enactive movement in cognitive science, the notion of autopoiesis (self-organization) has played a major role. According to autopoietic enactivism, the self-organizational structure of organisms constitutes the biological roots of intentionality, traditionally conceived as the directedness or aboutness of cognitive processes and states. Exemplified even by a single cell, the self-organizational structure of living beings is taken to be characteristic of cognitive systems, yielding the mind-life-continuity thesis, which is accepted by many leading enactivists. But taking this starting point raises new and challenging questions concerning cognition:
(a) Given this broad notion of cognition on the basis of autopoiesis, the candidate class of cognitive systems coincides with the class of biological systems, including bacteria, plants, slime moulds etc. Apart from questions about the cognitive status of their behaviours, we can ask: What is the unique contribution of brains and nervous systems to cognition? Given that enactivists emphasize the dynamics of brain, body and world in explanations of cognition, while they reject the claim that the brain computes mental representations, one question concerns the unique contribution of brains to cognition. This is especially pressing on the enactivist assumption that many organisms without brains are capable of cognition.
(b) Secondly, taking this starting point raises important questions about the possibility of cognition in artificial systems, a project at the heart of cognitive science. Allowing for cognition in artificial systems requires a functionalist framework of cognition rather than a biologistic one. This challenge is even more surprising considering the fact that Brooks' work in robotics, using subsumption architectures, has been a driving force in establishing embodied enactive cognitive science.
***
Project category: Theoretical project, 100% philosophical study, no experimental work
Formal title: PhD in Philosophy or Dr. phil.
Qualifications: The ideal candidate should have an excellent MA in either Philosophy or Cognitive Science. In any case, familiarity with topics and theories in Philosophy of Mind and/or Cognitive Science is mandatory. Some background knowledge in Philosophy of Biology is very welcome and useful for the project.
Part B: Situated agency and its evaluation

Project 4: Embodied agency in pigeons: The integration of a new arm into a body schema
Project Leader: Onur Güntürkün
Abstract: The body schema of birds doesn't forsee the possession of arms. What happens when a pigeon starts to wear an artificial robotic arm? Will it habituate to it as a mere nuisance? Or will it use it like an external tool but only under conditions for which it had gathered experience? Or will it embody it such that it starts to anticipate how to spontaneously alter its own body movements in novel situations in order to optimally exploit the options of the robotic arm for gathering food? In addition to detailed behavioral pattern analyses using machine learning, we will also employ molecular imaging to correlate our behavioral data with plasticity-related brain activity patterns. This study has the potential for a detailed analysis of the concept of embodied agency since, a) it uses an evolutionarily unforeseen but highly functional body extension in a non-human animal; b) it allows for detailed behavioral analysis of the process of learning and transfer to novel conditions, and; c) bridges action patterns to neural plasticity.
***
Project category: Empirical study
Formal title: Dr. rer. nat.
Qualifications: Expected is an excellent Master in Psychology or related fields
Project 5: Action control – prospects of enactivist approaches
Project Leaders: Sven Walter and Peter König
Abstract: The focus of the project is on enactivism. It will investigate possible ways enactivism can help us understand ways of controlling our actions, of making sure we behave the way we want to behave, according to our best judgements. The project might either be theoretical or practical. At a theoretical level, it might, for instance, comprise developing an enactivist account of how we acquire complex normative structures that make it superfluous to actively and effortfully make our actions conform to our best judgment because we have developed normative standards that make it virtually impossible for us to act against it. At a practical level, it might, for instance, comprise developing embodied strategies of self-control that take into account enactivism's idea a system's embodied interaction with its environment – be it real or possibly virtual – can be a more powerful explanans than abstract cognitive models.
***
Project category: Application of the framework of situated affectivity (75 %) and philosophical theory formation (25%)
Formal title: Dr. phil. or PhD in cognitive science
Qualifications: Expected is an excellent Master in Philosophy or in Cognitive Science. The candidate is exected to have has a proven expertise in either the philosophical aspects of embodiment and enactivism and or in empirical paradigms suitable for investigating embodied cognition against a philosophical background.
Project 6: Situated evaluation of actions: Acceptability of decisions by autonomous agents
Project Leaders: Peter König and Achim Stephan
Abstract: In previous research we investigated human decisions in dilemma situations and the acceptability of ethical decisions of autonomous agents in such situations. Building on this work we here investigate human behavior in joint task involving human avatars as well as artificial autonomous agents. We investigate the moral evaluation of decisions made by an autonomous car in traffic situations involving dilemmata: does the traffic situation with autonomous cars lead to specific criteria guiding our moral evaluations? Is there a general framework in place or do we rely on a situated framework especially for moral decisions with autonomous cars? The experimental setup uses a large, open source, scriptable and modular VR city (Westdrive). Specifically, we will use gaze behavior (eye and head direction) towards relevant objects in symmetrical (multiple object tracking) as well as asymmetrical tasks (driver, passenger). Pupil dilation is used to evaluate the cognitive load in these situations. Further, by means of EEG we will investigate attention processes (alpha activity, fixation onset ERP, ERSP of ACC and TPJ). Exploratory analysis will cover areas of the mirror system. This study allows scrutinizing subject's self-assessments and subject's interaction with autonomous agents with objective behavioral data. Further, it tests whether identical neuronal circuits are involved in human-AI interactions as in human-human interactions.
***
Project category: Empirical study
Formal title: Dr. rer. nat.
Qualifications: The successful candidate should have an excellent Master degree in Cognitive Science or a related field. Further, knowledge in the area of cognitive Neuroscience, experience with behavioral and physiological experiments and a firm understanding of advanced techniques of data analysis is required. 
Project 7: Enacted cognition in pretending the future: Possible implications for proactive problem solving in preschool-aged children
Project Leaders: Silvia Schneider and Babett Voigt
Abstract: Children during the preschool years become more and more able to prepare for a problem that will only occur during a future event (Munakata et al., 2012). The transition from reactive to proactive problem solving is seen as a milestone of child development (Pauen et al., 2016). Hence, research on how to foster proactive problem solving is highly warranted. Pretend play may be one promising candidate. During pretend play children imagine what another person or they themselves may think and feel at another place and time and enact their ideas accordingly (Lillard et al., 2013, for a review). Enacting imaginations about a possible upcoming problem may thus enhance proactive problem solving (Suddendorf et al., 2010, 2013; Hudson et al., 2011). Research on this question is still lacking, however.
The planned project aims to elucidate the conditions under which pretend play may facilitate proactive problem solving. Specifically, we will address the following questions: Is spontaneous pretend play more helpful than prompted pretend play? Is role play from a first-person view more helpful than symbolic play from a third-person view? What phenomenological features and which content of pretend play relate to proactive problem solving? Is it more helpful to enact the positive consequences of solving the problem or to enact the negative consequences of failure? In all three experiments, preschool-aged children´s problem solving behaviour is observed in a standardized laboratory setting after (a) a pretend play phase, or (b) after an interview about the upcoming problem or (c) after having the opportunity to play with some unrelated toys.
***
Project category: Empirical study
Formal title: Dr. phil.
Qualifications: Expected is an excellent Master in Psychology. Ideally the candidate has a proven expertise in developmental psychology and has gathered first experiences in experimental child psychology.
Part C: Situated emotions and social cognition

Project 8: Embodied empathy: Hormonal and olfactory basis of empathy
Project Leader: Ursula Stockhorst
Abstract: Our concept of embodied emotion involves hormonal feedback via afferent hormonal signals to receptors in brain areas relevant for emotion and cognition, and via hormonal efferent signals to the body. We systematically investigate sex- and stress-hormones and their role for emotion and social cognition. We plan to examine the role of hormones for emotion recognition, for cognitive and affective empathy in healthy men and women; we widen this perspective by additionally investigating the role of olfactory perception for these abilities in humans. Neurobiological studies in rodents reveal that long-term and rapid actions of estrogen at their brain receptors are involved in, or more precisely, improve different aspects of social cognition, i.e., social recognition (identification of conspecifics), social preferences and social learning. (Ervin, Lymer, Matta, Clipperton-Allen, Kavaliers & Choleris, 2015). Interestingly, these types of social cognition are regarded to be olfactory-mediated and rely on chemosensory information. Transferring these mechanisms to humans would suggest that emotion recognition and empathy are also related to features of the olfactory system. Interestingly there are first  although only correlational  data of interest here, with olfactory performance associated with social-network size and empathy indicators (especially in women). Further, we will also address the role of stress on affective and cognitive empathy within the project frame.
***
Project category: Empirical study
Formal title: Dr. rer. nat. (PhD in Natural Sciences)
Qualifications: Expected is an excellent M.Sc. in Psychology or a related area (Neurosciences, Cognitive Science). The ideal candidate has a proven expertise in experimental techniques and design, programming, recording of electrophysiological measures and statistical analysis. He/ she covers at least one of the following areas: Biopsychology, Social affective neuroscience (Psycho)neuroendocrinology, He/she should also document a strong interest in the interdisciplinary work of the Graduate School.
Project 9: Affective scaffolding by extremist groups
Project Leaders: Achim Stephan and Sabrina Coninx
Abstract: The project aims at providing philosophical analyses of the environmental scaffoldings of emotional processes and self-stimulated affective loops in radicalization processes. Many radical organizations provide structures for affective bonding and the development of affective loops between the recruits and other members of the organization. Among these scaffolds are opportunities to fulfill emotionally laden desires such as power, status, revenge, and identity based on relevant trainings and rituals which make the recruits to create deep affective bonding to the group. The PhD candidate should analyze first-hand interviews, narratives and profiles from de-radicalization centers and from internet databases to investigate the impact of affective patterns in different face-to face and in online environments. Furthermore, she/he will investigate specific emotions, different ideological and material approaches radical organizations use to form and maintain the emotional bond with the recruits. Hereby we will consider the impact both other people (such as leaders, influencers, family members, peers, and enlisters) and the psychological situation of the recruit have on their radicalization process. In addition, we will study how affective patterns evolve during the process of radicalization.
***
Project category: Application of the framework of situated affectivity (75 %) and philosophical theory formation (25%)
Formal title: Dr. phil. or PhD in Cognitive Science
Qualifications: Expected is an excellent Master in Philosophy or Cognitive Sciences). Ideally the candidate has a proven expertise in both research on extremism and situated affectivity.
Part D: Situated language and communication

Project 10: Embodied aspects of word learning: On the impact of sensorimotor learning conditions on the outcome of word learning
Project Leader: Jutta L. Mueller
Abstract: Embodied theories of language comprehension (Barsalou, 2008; Zwaan, 2004) assume a critical involvement of sensorimotor processes during language comprehension. For word learning in real life environments this means that sensorimotor properties of the complex learning situation should be encoded during learning and be involved in subsequent retrieval of novel words. Yet, it is not known whether and in which way sensorimotor-language links are present in the developing language system. Young learners could be biased towards specific sensory modalities or properties (Robinson & Sloutsky, 2004) or abstract immediately from the specific sensory-motor properties of the learning event (Waxman & Gelman, 2009). The project aims to test how complex multimodal stimulus information is encoded and retrieved during word learning by testing hemodynamic (NIRS) and electrophysiological (EEG) brain activity in infants and adults. We will use, for example, real objects, that can be seen, touched and make noises. Learning success will be assessed using concurrent EEG and NIRS in infants. Adults will be tested with similar learning events and their learning will be tested behaviourally, with EEG and partly with fMRI. Hormonal measures will be included as a covariate to test for endocrinological effects on language learning processes.
***
Project category: Empirical study
Formal title: PhD in Cognitive Science or Dr. rer. nat.
Qualifications: Ideally the candidate has a Master degree in psychology, cognitive science, linguistics or a related field. Previous experience with neuroscientific methods (e.g. EEG, fNIRS) and experience or interest in research with pediatric populations is advantageous.
Project 11: Effects of enacted communication on meaning: Co-speech gestures and non-verbal signaling
Project Leader: Markus Werning
Abstract: According to the received view, the meaning of a sentence is compositionally determined by its syntactic structure and the lexical meanings of the words that figure therein (Werning, 2005). In face-to-face communication, however, meaning is often enacted. How the listener interprets the speaker's communicative intentions also depends on co-speech gestures and non-verbal signaling. Their contributions to meaning may regard different linguistic levels: (i) the lexicon: e.g., uttering "John is sitting on an article" + wiggling up and down with fingers lets us interpret the verb sit on as typewriting (Dick et al., 2009); (ii) syntax/logical form: e.g., headshaking accompanying a sentence is interpreted as negation; (iii) information structure/focus: eyebrow raising or pitch accent on a word raises logical alternatives (Krifka, 1995). Enactment directly feeds into sentence meaning composition and immediately affects truth conditionss (Cosentino et al., 2017). Using an established correlation between surprisal and the N400-component in the event-related potential (Kuperberg and Jaeger, 2016), we will develop predictions of a Bayesian model of linguistic enrichment (Werning, Unterhuber and Wiedemann, 2019), test them in a series of EEG experiments and adjust our theory accordingly.
***
Project category: philosophy of language (40%), empirical study on language comprehension (60%)
Formal title: Dr. phil. or PhD in philosophy
Qualifications: Very good Master in Philosophy, Cognitive Science, Linguistics, or Psycholinguistics
The candidate should have very good competence in at least two of the following areas: Philosophy of Language, Semantics/Pragmatics, Neuro-/Psycholinguistics (e.g., EEG, eye-tracking)
Project 12: The evolutionary roots of situated communication: The impact of the social environment on communicative interactions of chimpanzees (Pan troglodytes)
Project Leader: Simone Pika
Abstract: Situated approaches on cognition postulate that cognition is primarily based on reciprocal real-time interactions of embodied agents with their environments (Stephan, Walter, & Wilutzky, 2014). Although a considerably bulk of work has been focusing on how human communicative interactions are extended by aspects of the social environment (e.g. Cutting & Dunn, 2006; Eibl-Eibesfeldt, 1988), relatively little is known about the evolutionary roots of situated communication. To date, recent studies on nonhuman primates suggested that distinct aspects such as age, cooperation, strength of social bond and degree of tolerance may impact upon the complexity of communicative exchanges (for a recent review see Pika, Wilkinson, Kendrick, & Vernes, 2018). However, the impact of social components on communication propensities remains obscure. Hence in this project, we will shed light on this crucial question by studying the communicative behavior of one of humans' closest living relative, the chimpanzee (Pan troglodytes), living in its natural environment. We will use a unique combination of behavioural observations and computational modelling, to test whether 'pro-social' versus 'non-pro-social', or 'tolerant' versus 'non-tolerant' variants may independently or through interaction impact upon the complexity of communicative interactions.
***
Project category: Empirical study
Formal title: Dr. rer. nat. or PhD in Biology/Cognitive Science
Qualifications: Expected is an excellent Master in Biology, or Cognitive Science (if the candidate does not have a master in Biology or Cognitive Science than the candidate should at least have written a BA- or Master Thesis in Biology/Comparative Psychology or Cognitive Science). Ideally the candidate has a proven expertise in at least one of the following areas: animal cognition, animal communication or social cognition. Field experience with nonhuman primates in their natural environments (preferably Africa) and in computational modelling is mandatory.
Project 13: Language as a cognitive scaffold – on the cognitive function of inner speech
Project Leader: Nikola Kompa
Abstract: Recent scholarship emphasizes the scaffolding role of language for cognition. Language is conceived of as a cognition-enhancing niche or tool. Yet how exactly does language serve this function? This project aims to spell out in detail the notion that language scaffolds impressive cognitive achievements. One way of approaching the topic is by recourse to the work of Vygotsky and his followers on private and inner speech. Vygotsky and neo-Vygotskian scholars emphasize the beneficial role of language for cognitive development, in particular its role in organizing, directing and controlling behavior. Children first acquire signs in social interaction, then learn to direct speech at themselves and to thereby control their behavior and organize their thought. Thus, language is claimed to be first acquired as an external symbol system before then becoming internalized and re-used as a cognitive tool. To date, there is a growing body of evidence that private or inner speech increases children's performance in various problem-solving tasks and enhances cognitive control. The aim of the project is to develop a theoretically coherent and empirically informed account of private and inner speech and generate hypotheses about the cognitive functions they may serve.
***
Project category: Philosophical theory formation
Formal title: Dr. phil. or PhD in philosophy
Qualifications: Expected is an excellent Master in Philosophy or Cognitive Sciences (if the candidate does not have a master in philosophy officially than the candidate should at least have written a BA- or Master Thesis which is clearly philosophical). Ideally the candidate has a proven expertise in at least one of the following areas: Philosophy of Language; Philosophy of Cognition.