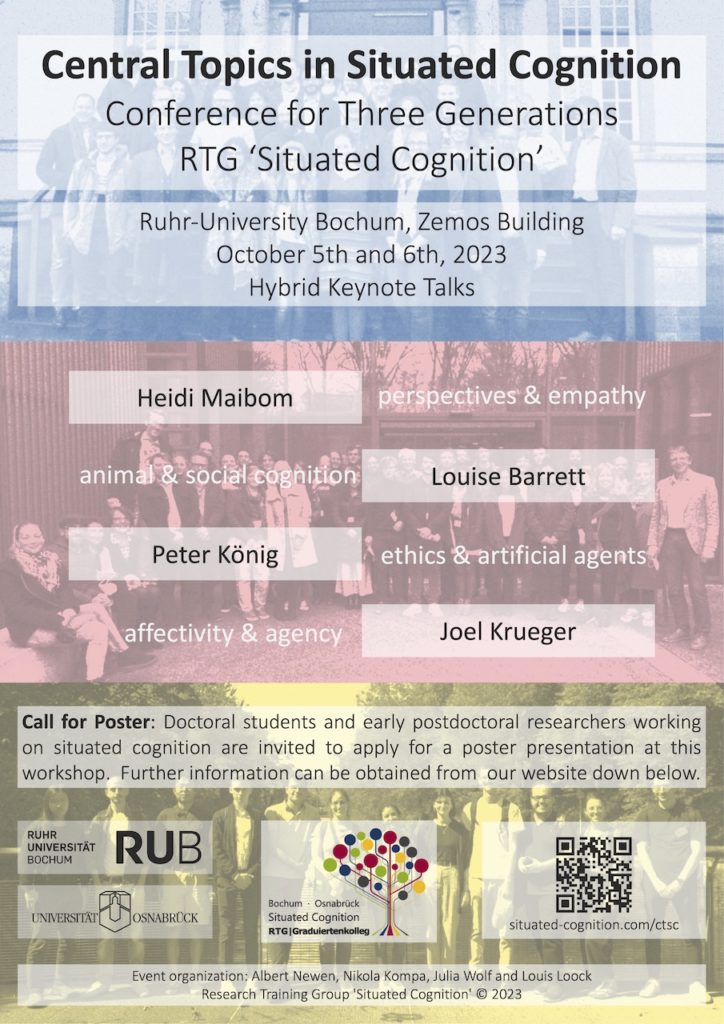 Abstract
Our Research Training Group 'Situated Cognition' has now started its third and last training generation of twelve new PhD students, with the second cohort simultaneously finalizing their projects. At this unique point in time, we would like to unite all three generations of PhDs together with many current, former and future members and collaborators, both internal and external. This includes our highly regarded keynote speakers: Louise Barrett, Joel Krueger, Peter König, and Heidi Maibom covering topics like situated affectivity, agency, perspectivism, social cognition and the interaction of neuroscience and AI.
Central Topics
Situated affectivity
Situated agency
Situated clinical psychology
Philosophy of science on the situated mind
Situated behavioral neuroscience
Situated health science and medicine
Situated animal cognition
Situated social cognition
Streamed Keynote Talks
The talks by our keynote speakers will be streamed via Zoom to anyone interested (no registration needed). Please use the following credentials to join:
Zoom ID: 840 6133 8176
Zoom Code: JPhuk0
Zoom Link: https://us02web.zoom.us/j/84061338176?pwd=Ukh5bitZWXpzQXVVRUVqdTVZUnY4Zz09
Louise Barrett (University of Lethbridge, Alberta, Canada)
Heidi Maibom (University of the Basque Country, Spain &
University of Cincinnati, Ohio, USA)
Joel Krueger (University of Exeter, UK)
Peter König (Osnabrück University)
Program Overview
– Thursday, 5th of October –
TIME
TYPE
SPEAKER
TITLE
09:45 – 10:00
Introduction
Albert Newen
10:00 – 11:10
Keynote
Heidi Maibom
Why Perspectives Matter
11:10 – 11:30
Coffee Break
11:30 – 12:15
2nd Cohort PhD
Felix Schreiber
Episodically Anticipated Emotions and Their Impact on Proactive Behavior and Mental Health Across Development
12:15 – 13:00
3rd Cohort Speed Presentations (I)
4-PERC: Syrine Rekhis (UOS)
5-PERC: Anil Bayindir (RUB)
6-AGEN: John Jairo Madrid Carvajal (UOS)
7-AGEN: Aitana Grasso Cladera (UOS)
8-SESC: Alessandra Mascaro (UOS)
9-SESC: Leonard Kulisch (RUB)
Empirical Projects in the RTG 'Situated Cognition'
13:00 – 14:30
Lunch Break
Mensa & Rote Bete
14:30 – 15:15
1st Cohort PhD
Samuel H. Cosper
Word Learning and the Brain: How We Label the World Around Us
15:15 – 16:00
2nd Cohort PhD
Kayla Kolff
*canceled*
16:00 – 17:15
Poster Session with Coffee Break
2nd Cohort PhDs & Associated PhDs
17:15 – 18:25
Keynote
Louise Barrett
Giving up the Ghost, and Getting Into the Goo: Embracing the Brain as an Organ of the Body (Not the Mind), and Taking Sociality Seriously
18:25
Catering Truck at Event Venue
– Friday, 6th of October –
TIME
TYPE
SPEAKER
TITLE
09:00 – 10:10
Keynote
Peter König
Normative Ethics of the Human and Artificial Agent Interaction
10:10 – 10:55
1st Cohort PhD
Julian Packheiser
The Behavioral Benefits and Neural Correlates of Affective Touch – A Perspective From Field, Lab and Meta Research
10:55 – 11:15
Coffee Break
11:15 – 12:00
3rd Cohort Speed Presentations (II)
1-META: Christian Scholz (RUB)
2-META: Yizhi Li (RUB)
3-PERC: Matteo Cerasa (RUB)
10-SESC: William Angkasa (UOS)
11-LING: Kirill Leshchinskii (UOS)
12-LING: Sofia Pedrini (RUB)
Theoretical Projects in the RTG 'Situated Cognition'
12:00 – 12:05
Photo Session
12:05 – 13:30
Lunch Break
Mensa & Rote Bete
13:30 – 14:15
1st Cohort
Internal Postdoc
Beate Krickel
How to Carve up the Mind? Horizontally, Vertically, or Both?
14:15 – 15:00
2nd Cohort Internal Postdoc
Sabrina Coninx
The Biopsychosocial Model of Chronic Illness: Prospects and Challenges
15:00 – 15:20
Coffee Break
15:20 – 16:40
Panel discussion
Imke von Maur
(Panelists: Beate Krickel, Sabrina Coninx, Martina Havenith-Newen)
Women in Science and Philosophy
16:40 – 16:50
Quick break
16:50 – 18:00
Keynote
Joel Krueger
Affordances, Affect, and Spatial Agency
18:30
Dinner at Q-West
Poster Presentations
This workshop will also include a dedicated poster session for younger internal and external researchers (see schedule). An overview of the presenters will be posted here soon.
Call for Posters
Doctoral students and early postdoctoral researchers who work on situated topics were invited to apply for a poster presentation at this workshop (see time slot in the schedule). Please send a brief abstract of your project together with a CV to Tetiana Adler (RTG-SituatedCognition(AT)ruhr-uni-bochum.de). The deadline for the submission of your poster presentation application has ended on the 27th of August. The organizers will then make a selection based on available slots and thematic fit. You would be invited as a research guest to this workshop, allowing us to reimburse you for your travel costs with up to 100€ (presenters from DE) or up to 150€ (presenters not from DE). Further information will be sent via the acceptance mail. We are looking forward to your application and many thanks for your interest!
Organizers
This workshop has been organized by members of the RTG "Situated Cognition":
Albert Newen (Speaker; Ruhr-Universität Bochum)
Nikola Kompa (Deputy speaker; Universität Osnabrück)
Julia Wolf (Scientific coordinator, Ruhr-Universität Bochum)
Louis Loock (Deputy scientific coordinator; Universität Osnabrück)
Venue
We would like to provide our registered guests with some directions for download. We also refer to the website of our conference venue building for detailed directions: ZEMOS
Group Photo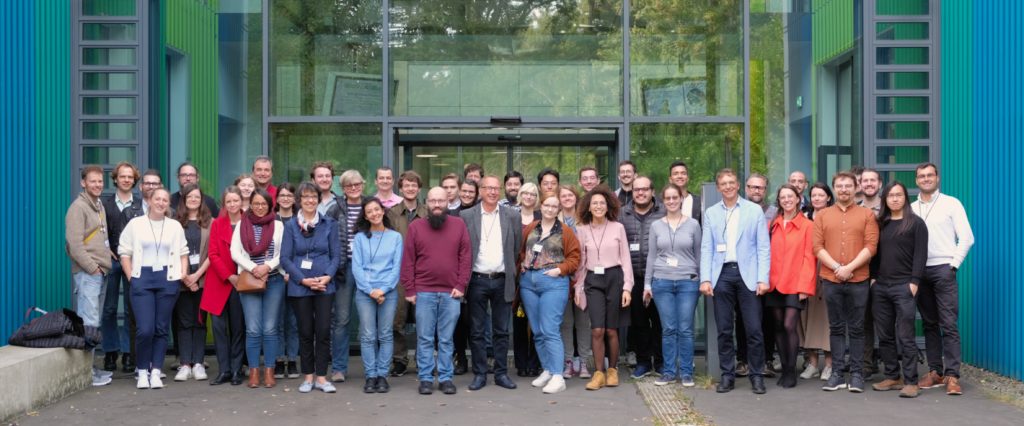 Many thanks to all of you!